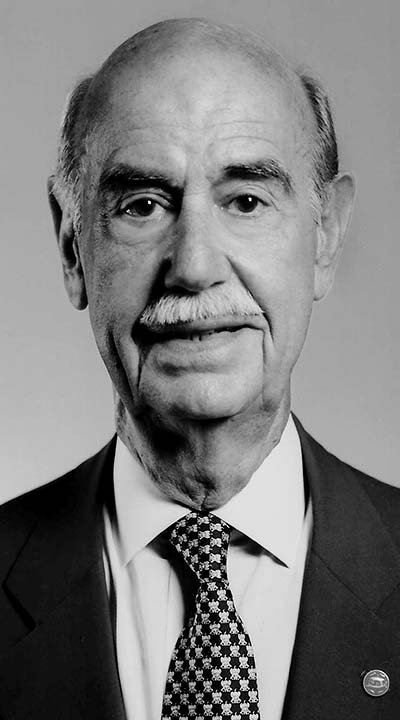 Paul J. Ioannidis' first career and vocation was as a pilot but he also made a unique and lasting contribution to the story of Greek shipping, chiefly through championing a new safety culture that he brought with him from the aviation industry.
Paul Ioannidis was born in Berlin to a Cyprus-born father and Greek mother. In 1943, aged 18, he joined the resistance against the German occupation of Greece.
Documents showing his German birthplace helped to save his life several times during the war.
He was decorated for his bravery with the King's Medal for Courage from King
George VI and received a commendation from Field Marshal Harold Alexander. Later he returned the medals in protest after a 1956 incident when the British hanged two Cypriot freedom fighters, Karaolis and Dimitriou, in Nicosia.
In 1944, Ioannidis joined the Royal Hellenic Air Force and was trained as a fighter pilot in Rhodesia by the RAF.  Subsequently he joined TAE Greek National Airlines, becoming at the age of 25 the youngest captain in Greek civil aviation.
In 1957 the company was acquired by Aristotle Onassis and renamed Olympic Airways.
For Olympic he served as chief instructor and chief pilot, eventually becoming the airline's director general. He was also pilot of choice for many Greek and international VIPs. It was Ioannidis who flew the ex-King Constantine into exile in December 1967.
After Onassis' death, the mutual regard of the two men was reflected by the magnate's will, which appointed Ioannidis a lifetime member of the board of the Onassis Foundation that he wished established.
Half of Onassis' estate was left to the foundation, which was set up to continue Onassis' business as well as fund a variety of public benefit causes, and half to his daughter Christina.
The shipping fleet was similarly divided. Ioannidis served as chief executive of the foundation's shipping and other commercial operations, and he also served as president of all companies owned by Christina Onassis for whom he acted as a father-figure and mentor.
After Christina's own premature death in 1988, he was an executor of her will and a member of the board of administrators of the estate of her young daughter, Onassis' grand-daughter, Athina.
In his autobiography 'Destiny Prevails', he wrote that he had been in love with the sea ever since he could remember and even as a young child wanted to become a naval cadet.
His path back to the sea had been a circuitous one. But his appointment to head the Onassis Group's shipping business in 1977 did enable him partially to realise his childhood dream.
With more than 25 years of experience as an instructor on airplanes and simulators behind him, Ioannidis was quick to identify that the safety culture in the maritime industry lagged behind that already being applied in aviation, especially when it came to addressing weakness of the 'human element' that was the main cause of most accidents.
Ioannidis introduced superior aviation training methods and culture to shipping to systematically reduce human error. He was tireless in breaking down reservations to the so-called 'airline concept' – first at Olympic Maritime and later in sharing the pioneering initiative with the wider Greek shipping community, through the Union of Greek Shipowners (UGS) and the Hellenic Marine Environment Protection Association, Helmepa.
He was a member of the board of the UGS for 26 years, six of these as vice-president. He chaired the UGS training committee for 14 years. He also served as vice-president of Helmepa and headed its training committee.
The approach to safety and training he introduced spread beyond Greek shipping and even as far as major oil company fleets that copied the systems he introduced to the Onassis fleet.
As a whole, the shipping industry did not catch up until the 1990s when the International Safety Management Code was introduced. There was international recognition for Ioannidis' ideas and his achievements.
He was only the second Greek (after George P. Livanos) to serve on the board of classification society ABS and later he was elected a lifetime member of the ABS Council. He also received Lifetime Achievement awards from Seatrade in 2011 and the Lloyd's List Greek Shipping Awards in 2017.
While he played a key role in modernising the safety culture of shipping, Ioannidis was an icon of old-fashioned morality – a courageous patriot who did not hesitate to speak truth to the powerful, including Aristotle Onassis, but he was also a kind and committed protector of Onassis' descendants as well as of the foundation he left behind.
He died in 2021 at the age of 98.