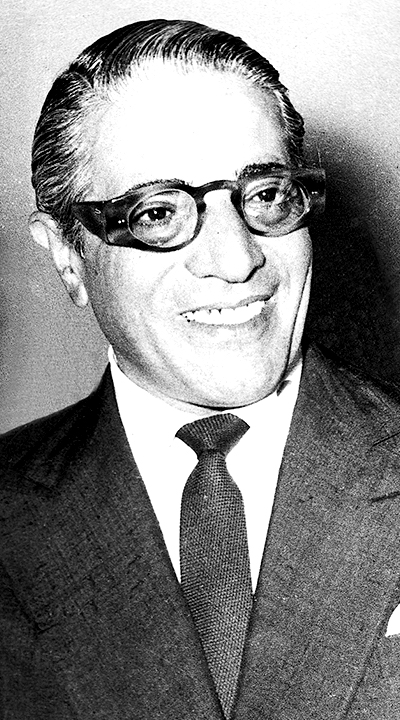 By far the most famous shipowner of all, Aristotle Onassis was born in 1906, in the early years of the steamship era, and he went on to become the epitome of the global tycoon of the jet age. A personality who combined courage, controversy and charm, he frequently overturned convention. Although this nature was evident throughout his business career, it was already pushed to the fore while he was still a teenager.
In 1922, when the Greek community was being brutally expelled from Asia Minor, it fell on Onassis' shoulders to get his family out of Smyrna, bribing officials to ensure their safe passage. His uncle Alexandros was hanged and Onassis later commemorated him by naming his son Alexander, rather than following tradition and using the grandfather's name. Seeing his family's home and property being seized as a young man may have reinforced the attraction of travel and of the seas when they beckoned him.
Safe in Piraeus but – like many thousands of other refugees – poor, Onassis soon booked a third-class passage on a ship to Argentina to seek his fortune. In Buenos Aires he struggled to find work until he falsified his age and secured a job as a night operator at the telephone company. He used the quiet night shifts to learn Spanish and read the business section of newspapers, and made some money from commodity speculation. His first moves as a serious businessman were in tobacco, which had been his family's line of business in Smyrna.
At age 25, he had already made his first million dollars. Together with a close friend, shipping scion Costas Gratsos, he alerted the Greek government to the dangers of a looming port tariff war between Argentina and Greece that could have ruined an estimated 80% of the Greek steamship fleet that depended on the Atlantic grain trade. He was rewarded with an appointment as a Greek government envoy in Buenos Aires. However, he felt that his role went unappreciated by the Greek shipping fraternity.
He began to eye the shipping industry more closely and he finally became a shipowner in 1932 when he cheaply purchased four Canadian National Steamship Company freighters that were tied up in the St. Lawrence River. He proudly raised the Greek flag on his first vessels and named them in memory of his family in the time-honoured manner. But Onassis entered shipping already as a sharp young man of the world, in contrast to other Greeks of the period who began as seamen working on their father's or uncle's ship.
An early exposure to Scandinavian maritime circles, through a long running affair with Norwegian-Swedish socialite Ingebord Dedichen, focused him on new ships and oil shipping. His next step reflected a man with plenty of ego and also a very modern understanding of the advantages of economies of scale. Rather than diversify gradually into the 'wet' side of the shipping business, he jumped in by ordering a giant tanker of 15,000 tons from the Gotaverken shipyards in Gothenburg. Many engineers of the time, when the largest tankers afloat were of 9,000 tons, considered such a ship impossible. When the vessel, named Ariston, was delivered in June 1938, it was the first-ever Greek-owned tanker and the largest in the world, as well as the first Greek ship with a diesel engine. A second, similar tanker, Aristophanes, was built with additional innovations. A third – of 17,500 tons, to be named Buenos Aires – was close to completion at Gotaverken when the Second World War began, heavily disrupting Onassis' nascent tanker business. Onassis relocated to the United States in 1940. He quickly bought a couple of second-hand tankers, registering them in Panama. Onassis was not the first shipowner, or even the first Greek, to use flags of convenience, as is sometimes thought. He had started off as a supporter of the Greek flag. But even before the war, the red tape of the Greek registry and the needs of some of his projects had pushed him to reflag several ships under foreign flags. He later wrote that this caused him "pains in my soul".
Onassis was inspired by New York, but he also spent part of the war years in California, and zeroed in on Hollywood, becoming in the words of one biographer "a model Hollywood playboy". Returning to New York, he found himself still an outsider in the circles of the Greek shipping elite in the US. Nonetheless, he courted the youngest daughter of the dominant Greek shipowner of the previous generation, Stavros Livanos. He and Tina Livanos, 17, were married on December 28, 1946. It was some consolation for the disappointment of being excluded from the circle of shipowners allowed to purchase on easy terms the 100 wartime surplus Liberty ships that the US allocated to Greece under the 1946 Ship Sales Act. These were in acknowledgement of the losses sustained by Greek shipping during the war. He also missed out on any of the seven T-2 tankers made available to Greeks on a similar basis in 1947, despite offering to purchase all of them and to devote all of their profits to the national seamen's pension fund.
The Liberty ships proved to be cash-machines for their owners in the boom years after the war, setting the stage for the revival of Greek shipping generally. Onassis was scathing in his criticism of the ruling Greek shipping aristocracy, as he saw them. He reveled in casting himself as the self-made rebel, but also a patriot who had not been helped by guarantees from the Greek state, which backed the Liberty purchases. At the same time, he had made a sweeping proposal to the Greek government to provide a fleet of coastal passenger vessels and airplanes to restore the shattered country's transportation network. He was rebuffed in this, too.
But he was not discouraged. By the end of 1947, he placed an order at the Bethlehem Steel group's Sparrows Point shipyard for the first of a string of tankers that made history. Onassis was credited with inventing a new model of raising finance based on loans being paid off by secured long-term charters from reputable oil companies. Several US-built tankers were delivered in the late 1940s, backed by charters to Socony Oil and Texaco. He saw a glorious opportunity in Germany's ruined shipbuilding industry after the war. He chose Germany to convert surplus wartime vessels into whaling ships. There, he also converted a tanker into a whaling factory ship for his latest venture, Uruguay-based Olympic Whaling, which would challenge the Norwegians and the Japanese whaling fleets.
The 1950s saw Onassis at the peak of his energies and creative powers. Organising a $100 million loan, he ordered 12 tankers from the Howaldtswerke shipyards in Kiel and Hamburg, and another six from A. G. Weser in Bremen – an unprecedented construction programme. In 1953, the Hamburg yard delivered the 46,000-ton Tina Onassis – the world's biggest tanker and the first to be widely referred to as a 'supertanker'. The following year saw the delivery of the slightly larger Al-Malik Saud Al-Awal, named in honour of Saudi Arabia's King Saud. The name reflected a pact with the Saudis, signed in January 1954, which shocked the oil and shipping industries as well as governments when it was revealed.
The so-called Jiddah Agreement stated that Onassis would provide the nucleus of a national Saudi Arabian tanker fleet which would be operated by the Greek shipowner. The new company, Samco, would carry a guaranteed 10% of the kingdom's oil exports and the kingdom would derive a number of benefits from the link with a leading independent shipowner. Others saw the move as a bid to monopolise the Saudi Arabian oil trade and the major oil companies retaliated by boycotting Onassis' tankers. But out of this affair came a stroke of luck. Although he had already begun to repair relations with the oil companies in 1955, Onassis still had much of his fleet available to take advantage of soaring charter rates for tankers in 1956 when the Suez Canal was closed.
The Saudi deal illustrated his capacity for making powerful enemies as well as powerful friends. He had pushed ahead with it while already under indictment for circumventing rules on the purchase of Washington-controlled wartime surplus ships. Other than the allocations to allied nations, including the allotment to Greece, such ships were reserved for US citizens. Onassis was one of three major Greek shipping personalities (the others were Manuel Kulukundis and Stavros Niarchos) who eventually had to pay heavy fines to settle cases with the Justice Department for gaining control of these reserved ships by creating US corporations, headed by Americans, to purchase them – a ruse that looked legal.
Aristotle Onassis was seldom out of the limelight during this period. In an alliance with Prince Rainier, the ruler of Monaco, he became the second most powerful man in the principality. In 1953 he took majority control of the investment company that owned the Monte Carlo casino, the famous Hotel de Paris, the yacht club and one-third of the principality's land. For a while, it proved an ideal base. Olympic Maritime, his shipping company was located there, and his presence drew glamour and fresh money into Monte Carlo. His newly-converted motor yacht, named Christina after his daughter, hosted many of the other celebrities of the age. In 1956, he took over a humble aviation company with a single long-range aircraft and swiftly set about relaunching it as Olympic Airways, Greece's national carrier, with a dream of serving the five continents – which he fulfilled by 1972. For a while he was the only private individual owning a global airline. "Shipping is my wife, but aviation is my mistress," he said.
Meanwhile, he conducted a real affair with opera singer Maria Callas. It united the two most famous Greeks of the 20th century, adding to the legend of both. But it also played a role in ending his marriage to Tina, who subsequently remarried his arch-rival, Stavros Niarchos. Ever since he made his first fortune, Onassis had been keen to invest in Greece and contribute to the growth of the country, advancing ever more grand schemes. His airline was the first major initiative that bore fruit. Shortly afterwards he launched Olympic Cruises and made an attempt to upgrade the cruising sector, too. In 1966, as his cooperation with Monte Carlo soured, he presented plans to the Greek government for a major investment that promised to develop the Athens coastline into a resort to rival the French Riviera. After the military junta took power in Greece, Onassis was one of the foremost tycoons vying to invest in major industrialisation projects. His proposed Omega Project in 1968 promised an initial $400 million of spending to create the country's third oil refinery, a new alumina plant and an electricity station. His bid increased to about $700 million of projects, but none were ever realised. He and the military government tired of each other.
In October 1968, only a few days before the unveiling of his Omega Project, he had married Jackie Bouvier Kennedy, widow of the assassinated US president John F. Kennedy. They appeared on the cover of Time magazine's issue the following week, and he must have felt able to achieve almost anything. In shipping, Olympic Maritime was in the forefront of a quantum leap in how the industry worked, as he and Niarchos, as well as one or two other leading rivals, seemed to try to outdo one another in driving up the size of ships. This was particularly so in tankers. In the 1960s and early 1970s Onassis turned mainly to the shipyards of Japan to order dry bulk carriers of 27,000 tons and most of the 20 very large crude carriers (VLCCs) of more than 200,000 tons for which he placed contracts in his lifetime. Six supertankers were also ordered from Chantiers de l'Atlantique in France and two from the Belfast shipbuilder Harland & Wolff, which he tried to purchase without success.
At its peak of 67 vessels, the Olympic fleet was not only one of the largest in the world, it flaunted its quality. The newest tankers could be distinguished far away as they were kept painted gleaming white – at huge cost. Many had a piano installed in the owner's quarters. In the skies, Olympic Airways was an innovator and established a high reputation for quality. At one stage Onassis was keen that the airline's first jumbo jets would also have a grand piano on the upper deck, but the idea was eventually dropped.
In January 1973, his only son Alexander, who was an accomplished pilot, died at the age of 24 when his Olympic amphibian aircraft crashed due to a wiring fault. Compounded by the death of his children's mother, Tina, the next year, the loss of his son was a mortal wound to Onassis' appetite for life and his legendary will-power. One of his last great projects, a plan to build an oil refinery in the US, was defeated by local opposition. A few weeks later, after recuperating with Jackie in Acapulco, he wrote his last will while the couple flew back to New York on board his private Learjet. The will provided for his daughter Christina to inherit half of his estate, and for 'Alexander's portion' to be used to create a foundation, in the name of his fallen son, to fund a wide range of public benefit projects, particularly in Greece and in support of Greek culture. The foundation has faithfully carried out this role to this day.
After the military junta fell and the democratic government of Constantine Karamanlis was installed in Athens, Onassis was one of the business barons who was out of favour for having cosied up to the dictatorship. Olympic Airways was in financial trouble and while Onassis, by now ailing, had hoped to negotiate government support, the talks swiftly turned to repossession of the national carrier. Onassis eventually admitted defeat and in January 1975 the nationalisation of the airline was reluctantly agreed. On March 15, before the physical transfer of Olympic Airways to state ownership, Onassis died in Paris. He was buried next to Alexander on Skorpios, his private island in the Ionian Sea. His bones are not far from the island of Ithaca, the home of Odysseus, the ancient prototype for adventurous, voyaging Greeks.