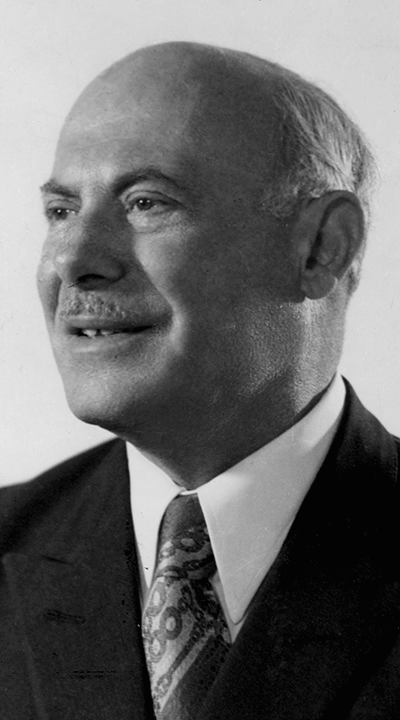 Minas Rethymnis, who has been inducted into the Hall of Fame with his older brother Nikolaos, was a pivotal shipowner of the pre-Second World War era but also a major post-war benefactor of Kassos, the brothers' island of birth, and their adopted home island of Syros.
Whereas Nikolaos located himself in New York for many years, Minas was stationed in London. The formation of Rethymnis & Kulukundis in London in 1921 by Minas and his more celebrated cousin, Manuel Kulukundis, ensured that the Rethymnis family name would be enshrined in Greek shipping legend. But as was the case with virtually all their investments and enterprises, the two brothers were both involved and they enjoyed a harmonious relationship throughout their careers.
The Rethymnis family may have originated in Crete, but the brothers were born on the Aegean island of Kassos into a family of ship's masters. The family relocated to Syros island when Nikolaos and Minas were small. Both eventually attended British marine colleges and became captains themselves. Their grandfather, Captain Nikolaos Rethymnis, started registering vessels in Kassos from the late 1850s. Their father, Vasilios, was himself a small shipowner.
Fellow Kassiots and friends, Minas Rethymnis and Manuel Kulukundis shared lodgings in London and both ended up working for the same firm, Eastern Shipping Agents. After a few months, they made their move, setting up R&K.
R&K became a one-stop shop to serve a wide circle of Greek shipowners and on the eve of World War Two it represented about 90 vessels. Early clients and joint venture partners included several Kassos shipowners, Oinoussian owners such as the G. M. Lemos family and Stefanos Lyras, and names such as Chandris, Coulouthros, Inglessis, Marcos and Pateras.
Even as R&K flourished, Nikolaos and Minas joined with their cousins and fellow Kassiot sea captains Michael Pnevmatikos and Efstathios Yannaghas and together they established Kassos Steam Navigation Company of Syros in 1927. The brothers owned 40% of the shares in Kassos. The new business drew on R&K but the partners also created their own London management unit. Kassos Steam Navigation used the group's extensive knowledge of secondhand vessels and quickly established a significant fleet of Greek-flag freighters, manned by seafarers from Syros and Kassos.
At the same time, the Rethymnis brothers and partners were not shy about newbuildings. The new 8,000-ton freighter Hadiotis II was delivered by Northumberland Shipbuilding as early as January 1929. The company's status was underlined by delivery in 1939 of the 9,700-ton Kassos from Sunderland shipbuilder William Doxford. The Kassos has gone down in history as the first motor vessel ever built for a Greek company and it brought the fleet to eight ships on the eve of the Second World War.
The war took a heavy toll of the R&K and Kassos fleets that were operated at the service of the Allies. From the fleet under R&K's agency a total 25 ships were lost, along with 200 seafarers. Kassos lost four steamships during the war.
Minas worked with the wartime resistance in Piraeus, sabotaging German transport, helping the escape of British and Greek officers and getting valuable intelligence to the Allies. He was later recognised by the Greek state for his actions.
After the war, the brothers and their partners in R&K and Kassos Steam Navigation set about rebuilding their fleets. The Kassos losses during the war were recognised with three of the 98 Liberty vessels made cheaply available to Greek owners from the US war surplus fleet. These were the James H. Courts, acquired in 1946 and renamed Hadiotis; the Josiah Cohen, acquired in 1947 and renamed Themoni; and the Edward K. Collins, acquired in 1947 and renamed Chelatros.
The Rethymnis brothers' input was considered crucial to the development of the 'SD 14' Liberty replacement design driven chiefly by their cousin Basil M. Mavroleon. In 1954, Minas Rethymnis was back in Sunderland for delivery of the 6,498-ton freighter Aghia Marina, first of three new Doxford ships ordered by the company. The new, all-welded design promised savings in steel used in construction as well as savings in fuel consumption.
The brothers were always keen to help their home islands. In 1955, they acquired Neorion Shipyards in Syros and expanded the yard with new installations. They also provided employment, not only by routing their own vessels to Syros for repairs, but also by ordering newbuildings of their own. A first new ship was delivered in 1959. This was a 450-ton vessel, christened Neorion, for trading between the islands. In 1963 the yard delivered its largest vessel, the 1,000-ton shortsea tanker Gerogiannis M. They supported the yard until 1969 when it was sold to the N. J. Goulandris group.
Until the end of their lives, the brothers quietly funded numerous causes such as the Greek Red Cross as well as financially helping individuals, particularly from Syros and Kassos, with education and health care.
Since neither brother had heirs, a Rethymnis foundation was established in Syros. Primarily, the foundation focused on providing health care with priority going to islanders from Syros and from Kassos. Other causes it supported included care for orphaned children from seafaring families and providing scholarships to students from the two islands. Today, funds continue to be dispensed for emergency medical cases.