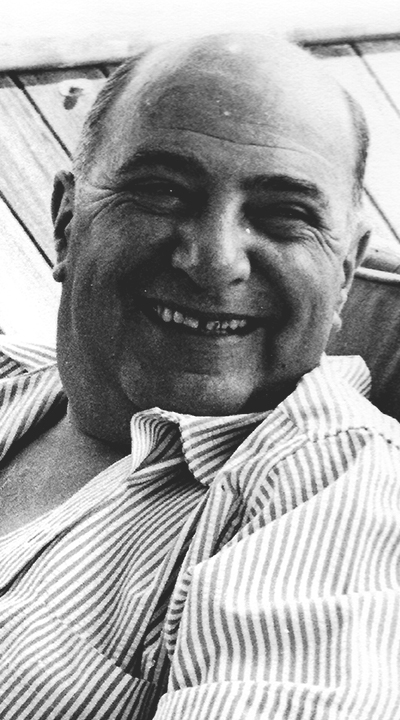 Basil M. Mavroleon was born in Tripoli in the Peloponnese, but hailed from one of the old shipping families of Kasos island.
'BM', as he became widely known, relocated to London in 1920 and joined his cousins, the Kulukundis brothers, at the Rethymnis & Kulukundis (R&K) agency. He trained as office boy and messenger, but he was soon instrumental in the business. Mavroleon earned a formidable reputation for chartering and became one of the leading fixers of Greek ships in London, practically living at the Baltic Exchange.
When World War Two began, several of the R&K partners relocated to New York, leaving BM and John Kulukundis in the UK to run their ships under the control of the Ministry of War Transport.
After the war, the group rebuilt its depleted freighter activities and also became a pioneer in tramp tanker ownership under the British flag. It was Mavroleon who launched and supervised the new venture, London & Overseas Freighters.
LOF began in 1948 with nine aging freighters belonging to the Mavroleon and Kulukundis families, but the first tanker newbuildings were already on order. Over the next three decades, it kept a foot in dry cargo while establishing a leading modern tanker fleet that eventually was sold to John Fredriksen in the 1990s.
BM remained chairman until his death in 1978 and also served as managing director until 1966 when a heart attack forced him to take things easier. High among his many claims to fame was leading LOF to a listing on the London Stock Exchange in 1951 – more than 30 years before any other Greek shipping company was publicly traded.
In the 1950s he entered negotiations to buy Sunderland shipbuilder Austin & Pickersgill and conceived the idea to build an economic dry cargo replacement for the aging fleet of wartime Liberty ships.
He personally inspired the design of the new 14,000 dwt dry cargo ships known as 'SD 14s'. In 1968, Mavroleon took delivery from A&P of the very first SD 14 worldwide. In all 211 SD 14s were built in the UK and under licence in Brazil, Argentina and Greece, including 27 at Hellenic Shipyards, making it the most popular of the various Liberty replacements. Buyers included many Greek owners.
Mavroleon contributed perhaps as much to British commercial shipping as to Greek shipping. However his business acumen was derived from his Greek origin to which he felt more affiliated.