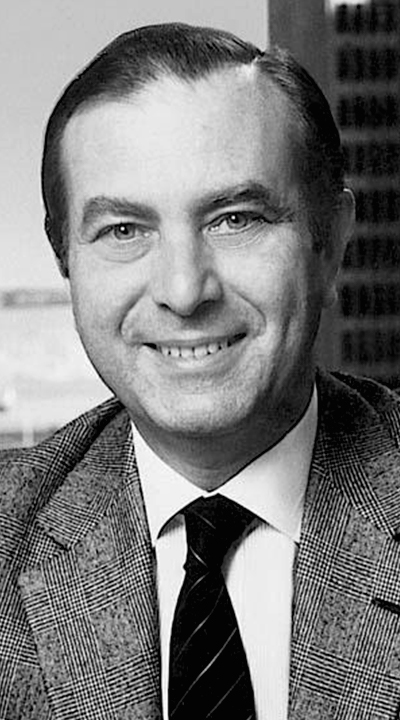 Pericles Panagopulos stood out among prominent Greek shipowners of his age as a true entrepreneur and innovator. His reputation soared as the founder, first, of Royal Cruise Line, and later of the ferry-owning and operating Attica Group, while he was also respected as a dry bulk shipowner.
However, none of his successes came easily and his shipping career was built only after overcoming a tragic childhood.
Panagopulos traced his roots to Messinia in the Peloponnese and his immediate family had nothing to do with maritime activities. His father owned a hotel in central Athens but he lost his life during the war when the hotel was seized by the Nazis.
However, Eugene Eugenides was a distant relative of the family. After the war the legendary Switzerland-based shipowner took young Pericles under his wing.
Panagopulos spent school holidays on the vessels and in the offices of his mentor. The apprenticeship spanned all Eugenides' shipping activities, including the transatlantic passenger services of Home Lines, as well as dry cargo and refrigerated vessels.
Eugenides, who had no children of his own, recognised the talent and drive of the young Panagopulos. He also passed on to his protégé a perfectionist mentality.  It appeared that Panagopulos was emerging as a potential heir to his business but any chance of this was scuppered by Eugenides' sudden death in 1954.
For a period after Eugenides' passing, Panagopulos soldiered on with Home Lines, but disillusion set in and he eventually resigned, without another job immediately lined up. Through a chance meeting, though, he was almost instantly recruited by Charalambos Keusseoglou, another former Home Lines executive, who had set up a new cruise business, Sun Line.
Panagopulos became general manager of Sun Line and it was there that he gained the additional confidence to think of launching his own entrepreneurial career.
"As a young man, I knew that my role was to learn," he later said. As my knowledge and experience grew, I began to see the cruising business and to understand it in a new way. I came to believe that I had ideas and insights that could make it better. Once I had learned the foundation, it occurred to me that I could be the future."
In 1971, Panagopulos co-founded Royal Cruise Line with Barney Ebsworth, a St. Louis travel industry entrepreneur. RCL's many innovations included the concept, commonplace today, of the air-sea package for cruises.
Its first ship, the Golden Odyssey, built in Helsingor Shipyard in Denmark, was designed to carry 450 passengers as this was the capacity of the new Boeing 747 airplane. Delivered in 1972, it encapsulated many new ideas in hull form, construction materials, cabin facilities, and onboard services. Many of its new ideas were soon adopted by competitors.
Later, under Panagopulos' full control, RCL introduced two more ships, the first of which was a secondhand conversion of the former Home Lines' ship Doric, that became the 850-passenger Royal Odyssey in 1982.
With the 1987 IPO and rapid expansion of Carnival Cruise Line, the industry was changing quickly, however. Panagopulos was keenly aware of the need to grow. An order for up to two next-generation cruise vessels was placed with Germany's Meyer Werft shipyard and resulted in delivery of the 1,052-passenger Crown Odyssey in 1988. The vessel was full of innovations stemming from the owner's obsessive attention to detail and creative energy but plans for a sistership was cancelled.
Panagopulos was an innovator, but also a pragmatist. Seeing a future of diminishing profits and toughening competition, in 1989 he sold RCL to Kloster Cruise, a move that anticipated a much wider worldwide consolidation of cruising that was soon to come.
An exciting new chapter began in January 1992 when he acquired Attica Flour Mills, a dormant company with a listing on the Athens Stock Exchange. For the first time this opened up access to public capital for his own plans. Restyled Attica Enterprises, the company soon focused on the ferry sector.
Recognising the potential of an Adriatic sea-bridge bypassing the overland route through the Balkans, Panagopulos and his son Alexander launched SuperFast Ferries.  They were the first new ferries ever built for the Greece-Italy trade and kicked off a fleet of 12 SuperFast newbuildings.
SuperFast later established itself in the Baltic and the North Sea and Attica also entered the Greek domestic trades by taking control of a competitor, Strintzis Lines, that was rebranded Blue
Star Ferries.
In just seven years, the restyled Attica Group had introduced 17 major newly-built ferries and could claim to be the first pan-European ferry operator.
In 2007, Panagopulos sold Attica to Marfin Investment Group. The divestment was prescient, coming two years before a market collapse.
In 2009 Panagopulos was kidnapped by gunmen outside his home and held captive for eight days. Already a legend in shipping circles, he became known to a wider public for the characteristic grace and dignity with which he emerged from the ordeal.
In parallel with his ferry operations, he was active in dry bulk shipping through Magna Marine, formed in 1991. At his death in 2019, following a long illness, Magna's fleet had eight vessels.