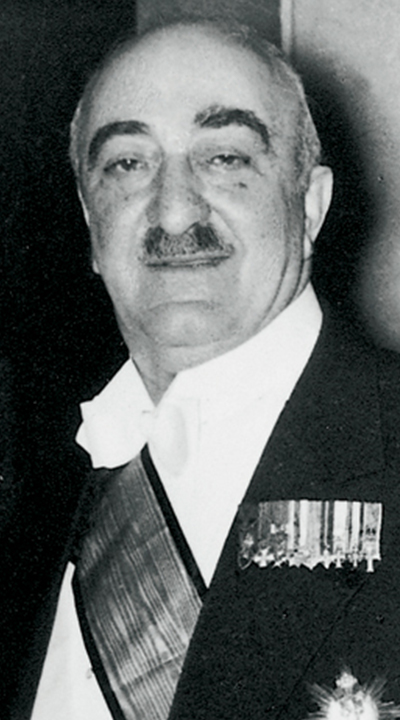 Eugene Eugenides may or may not be the "Mr Eugenides" immortalised as "the Smyrna merchant" in T. S. Eliot's famous poem The Waste Land. But he had many other distinctions. In the course of his career, he established himself in several countries, and was recognized by several others for his achievements.
He began as a trader. When it came to shipping, his career was shaped by his interest in logistics and exchanges between nations. In the context of Greek shipping, he stands out for his focus on liner services. His personal service ethic also places him among the country's great patriots and benefactors. Eugenides was born in Thrace, in northern Greece, the son of Agapios Eugenides, a judge in the Ottoman law courts, and his wife Hariklia Afentakis. His father educated him in the classics and humanities, eventually at Robert College, a prestigious private school in Constantinople, today's Istanbul. This had a strong role in shaping his ideals. At the age of 20, he found a job at a British shipping firm, Doro's Brothers, and just four years later was appointed general manager of the Reppen shipping agency. He later confessed that even in his schooldays he dreamt of making a fortune, but in order to help others rather than for his own enrichment.
His first business was importing lumber from Scandinavia and this brought him into contact with the Swedish shipping firm Brostroms. He was entrusted with establishing Brostroms' Swedish Orient Line which initially went so badly that he supported it by chartering vessels himself. That led to a surplus of timber imports in the Constantinople market that might have ruined the young entrepreneur. However, he had the bold idea of establishing his own small shipyard on the banks of the Golden Horn, where he built a large number of barges to absorb additional timber.
Eugene Eugenides was among the hundreds of thousands of Greeks forced to relocate to Greece after the disastrous Greco-Turkish War of 1919-1922 culminated in their expulsion from Turkey. Establishing himself in Piraeus in 1923, he launched the Scandinavian Near East Agency as an affiliate of Swedish Orient Line and poured his energies into growing in shipping, trading and representation of other shipping lines. In 1926 he was appointed consul-general of Finland in Greece. Typical of his energy and acumen, he masterminded a visit in 1934 by the heir to the Swedish throne, later King Gustaf Adolf, financing the reception and hosting of the visitors out of his own pocket. He organised exhibitions of Scandinavian products in Greece, and of Greek products in Sweden and Finland. One result of such efforts was that, through direct shipping connections, trade between Greece and other Mediterranean ports and Scandinavian markets began to flourish in the inter-war years. Greek tobacco exports increased, while the lumber depots in Piraeus became the largest and most efficient in the Balkans.
The Scandinavian Near East Agency opened branch offices in numerous ports in Greece, Turkey, Egypt, Syria, Palestine, Romania and Bulgaria. The network kept careful statistics on cargo transportation throughout the region, giving Eugenides a good overview of trading and shipping trends throughout the region. Meanwhile, at the dockside, he frequently attended loading operations and from time to time could be seen in the holds supervising cargo stowage. He had similar bonds with his own seamen and was known as a generous employer, paying bonuses to crew when he was satisfied after inspecting a vessel.
The Second World War pushed Eugene Eugenides to leave Greece. He initiaslly went to Egypt in 1941 and later to Cape Town. From there he launched a regular liner service between South Africa and South America using his first fully-owned cargo vessel, Argo, acquired in 1937. Finally, he based himself in Buenos Aires where he settled for the rest of the war.
His liner operations continued and expanded after the war, establishing him as one of the pioneers among Greek shipowners of this type of shipping. While Greek South American Line provided a service between western Europe and Argentina, South African Lines ran a regular Africa-Europe connection although Eugenides had to endure considerable early losses as the established shipping conference on the line, led by British and Dutch operators, tried to shut out the new competitor.
For the South American operation, Eugene Eugenides hoped to introduce large, modern refrigerated vessels and proposed to Swedish partners that a series of six should be built in Sweden. When they showed caution, he ordered the first two himself and eventually a series of new vessels were put into service.
In parallel, in 1946 he had launched Home Lines in anticipation of a large flow of migrants from Europe to the Americas after the war. Swedish American Line and Trieste-based Cosulich Lines were partners in the venture, which operated the ex-Norwegian liner Argentina as its first vessel. He headquartered the new company in Vevey, Switzerland. By 1949 three transatlantic liners were plying the service between Genoa and South America, althgough that year one of them, the Italia, was switched to a New York service, marking the start of a change of emphasis towards serving routes between Italy, the UK and Germany and on the other side of the Atlantic the United States and Canada.
Home Lines established a good reputation for the standard of its ships and the quality of its service, becoming one of the top three operators in the transatlantic passenger business. The company continued long after Eugenides' death. Under his successor, Nicolaos Vernicos-Eugenides, it developed into a successful cruising brand until 1988 when it was absorbed by Holland America Line.
Eugene Eugenides was widely recognized as a national benefactor. In August 1953 when deadly earthquakes devastated the Ionian Sea islands of Cephalonia, Zakynthos and Ithaca, he immediately responded with generous funds, a prefabricated hospital and houses, as well as rallying other countries to respond to the Greek crisis.
In a less-celebrated act of generosity shortly afterwards, he donated 23 first-class tickets, plus travel expenses, to the Dora Stratou Greek dance troupe to enable them to voyage to New York. They had sought only help with economy-class passage. But he was a class act.
The same year he had taken part in a state auction for the ocean liner Athinae, which was part of Italy's war reparations to Greece. Eugenides deliberately over-bid to acquire the vessel as he did not wish to undercut the value of a national asset. The Athinae sailed from Piraeus in November 1953 on its first voyage on the South American line.
At the same time, the government was keen to modernise direct liner sailings for passengers between Greece and North America. Again Eugenides had to step forward when negotiations with other Greek shipowners failed. He answered the call despite the fact that the industry in general was demanding more action from the government to make the Greek flag more competitive with the flags of foreign competitors.
The vessel, which had been pulled off a profitable service to Canada, was renamed Queen Frederica and became the favoured transport of Greek migrants to the US for the next decade, before it was sold to Chandris Lines.
Although Eugenides signed the deal with the government in December 1953, the new vessel did not make its debut trip for the newly-created National Hellenic American Line until January 1955. But by then the shipowner was dead.
Eugene Eugenides passed away suddenly, in his Swiss headquarters, on April 22, 1954, when he was advanced in his plans to relocate to his beloved Greece. He died at the peak of his powers and was widely esteemed throughout Greece, unusual for a shipowner. He loved work and had often expressed a wish to die "unexpectedly, in full activity". Only the previous year, he had been awarded the Grand Cross of the Order of the Phoenix by Greece's King Paul, and he was honoured by numerous other countries, including Sweden, Germany, Italy, Denmark, Finland, Argentina and South Africa. Prime Minister Alexandros Papagos called him "a patriotic soul and a national figure".
Eugenides was an admirer of Andrew Carnegie, the steel magnate who urged entrepreneurs to distribute their fortunes responsibly for the benefit of society. He was a giver, right up to the end – and beyond. According to the instructions in his will, the Eugenides Foundation was established, primarily to educate young Greeks in science and technology. Over the years, his foundation, which also hosts the state-of-the-art Athens Planetarium, has spent more than $400 million on social and educational projects. It has distributed many millions of scientific and technical textbooks.