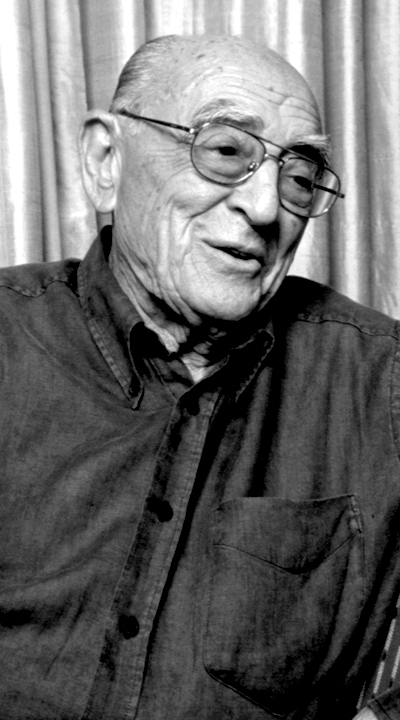 In his own words, Michael Peraticos enjoyed adventures. He remained excited about the job of being a shipowner throughout his career. Notably, he combined his private business activities with decades of leadership on matters of common interest to the Greek shipping community.
Michael C. Peraticos was born in Piraeus in March 1918. His father was Constantinos 'Costis' P. Peraticos, whose family came from the island of Syros and from the village of Kardamyla in Chios island. His father could trace a long lineage in shipping but they had lost their money and so Costis P. Peraticos was self-made, becoming a trader and part-shipowner of small vessels. Michael's mother, Antonia I. Xylas, also from Kardamyla, herself came from a well-known, successful family of shipowners.
He was born second to Panayotis who died in infancy. After Michael, another son was born and he was named Panayotis, or 'Takis'. The young Michael received his primary education at the French School in Kallithea, adjacent to Piraeus.
In 1937 Peraticos went to Hamburg to study economics and he left Germany two years later, just as the Second World War started, carrying indelible impressions with him of the rise of the Nazi party and treatment of foreigners from the east.
His aim was to go to New York but the only ship he could board for the Americas was sailing to Latin America, and specifically to Lima in Peru. He stayed in Latin America for the next five years, spending time in Chile, Nicaragua, Peru and Argentina, and supporting himself by trading in a variety of commodities including minerals, wood and even fabrics.
Towards the end of the War he made his way to New York where he met with a number of Greek shipowners who at the time were involved in the negotiations for the assignment of 100 Liberty vessels to Greece.
His father's two ships were both sunk during the War and thus the Peraticos family was qualified to buy a Liberty ship. However, it could not wholly afford one of the vessels, so Michael entered into a minority partnership in a syndicate of several owners headed by John M. Carras.
Returning to Europe after the War, Peraticos settled in London and began working for his uncle, Michael M. Xylas, who founded Faros Shipping. He and his family had a minority participation in some of the Faros fleet and the partnership lasted for several years, after which he co-founded Tharros Shipping, another family partnership. Together with his brother, Takis, he was highly active during the 1950s in buying and converting second-hand ships. The pair also partnered on occasion with a number of other up-and-coming shipowners, such as Achilles Halcoussis and Loucas Hadji-Ioannou.
During a visit to Athens in 1953, Peraticos met Sophia N. Inglessis who came from an established shipping family from Samos, another island in the eastern Aegean Sea, not far from Chios. They married the next year and moved to London where they started a family. Three sons – Costis, Nicos and Anthony – were born in the next few years.
Peraticos enjoyed working with partners, and he also believed in grouping with other shipowners to form purchasing associations that could enjoy economies of scale that each one alone would not be able to achieve. Pentas, Prometheus and Atlas were among the associations that consequently were set up in the early 1960s to buy stores and provisions, bunkers and lubricants for members.
Later he was a founding member and eventually Chairman of the Greek Group, a body set up to purchase lubricants and bunkers through large contracts for the benefit of its many members. The Greek Group became the single largest lubricant purchaser in the world and has had contractual arrangements with Exxon-Mobil, BP, Shell and other major oil companies that helped participating shipowners reduce their ships' daily costs.
In 1964 Pegasus Ocean Services was formed as a loose partnership that over the years would include a variety of Greek shipping families. The idea was to provide a full range of management services, including common commercial and technical management, as well as representation in any area where a larger profile could benefit the individual members.
In the 40 years of Pegasus' existence, family and individual participants joining the wider Peraticos family included shipping names such as Angelicoussis, Efthymiou, Lentakis, Adrianopulos, Inglessis, Valambous, Xanalatos, Xylas, and a large number of their clients and smaller shareholders. The line-up of partners fluctuated, but Michael Peraticos was a constant hand on the helm.
Between the 1960s and the early 1980s, Pegasus and its participants mainly ordered versatile 'tweendecker' cargo carriers, specifically of the Freedom design from IHI in Japan, and its successor, the Freedom MKII. These were multipurpose vessels of 16,000-20,000 tonnes capacity. The group's business model was to order, build and trade their ships from birth through to the end of the ship's safe and efficient life at over 20 years of age.
After the deep shipping crisis of the 1980s, the company changed its approach and started buying ships in the second-hand market. It also moved into tankers. From that point forward, Pegasus purchased a large variety of ships, including oil tankers ranging from panamax size up to very large crude carriers, chemical tankers, ore-bulk-oil carriers, dry bulk vessels from panamaxes to capesize, and even roll-on/roll-off vessels.
Peraticos was drawn to associations and mutuals that represented the industry and the interests of members. He was among a small number of shipowners who revived the Union of Greek Shipowners (UGS) after Greece's return to democracy in 1974 after seven years of dictatorship, helping to develop the body as a serious representative of Greek shipping to engage with government and international bodies. For much of the 1970s and '80s, he served as Vice Chairman of both the UGS and the Greek Shipping Co-operation Committee in London.
Among other positions he held were the chairmanship of the world's largest marine mutual insurer, the UK P&I Club, as well as chairmanship of the Hellenic War Risks Association. He enjoyed working with younger shipping people through such associations.
Although much of his life was spent outside Greece, Peraticos was also a patriot who sought opportunities to invest in the country. He was among the founders of Ergobank, one of the earliest Greek non-state banks.
In 1992 he purchased Elefsis Shipyards from the Greek government with a view to turning it around and transforming it into a modern international shipbuilding and repair facility. His eldest son Costis moved to Athens to run the yard.
The investment proved to be a disaster and Peraticos called it the "worst decision of my life".
After three years of trying to operate Elefsis and deal with the public sector in Greece, he walked away from the investment. But in the wake of the family's involvement with the yard, tragically, his son Costis was murdered by the 17November terrorist gang.
This launched Michael's last career as a voice of the families of victims of terrorism. He appeared on Greek and international television drawing attention to the fact that terrorism had gone almost completely unchallenged by successive Greek governments. At that point there had not been a single arrest of a member of the 17N group that had been killing, maiming and robbing for over 25 years. He gave numerous media interviews and became a permanent presence in the various ministries in Athens in an effort to alert the Greek people and their politicians to the severity of the problem.
He was a founding member of Ως Εδω ('No More'), a group comprised of the families of victims of terrorism in Greece, and became its unofficial spokesman. He was successful in this role because he was articulate and moderate.
Michael C. Peraticos died at home on June 20, 2008.