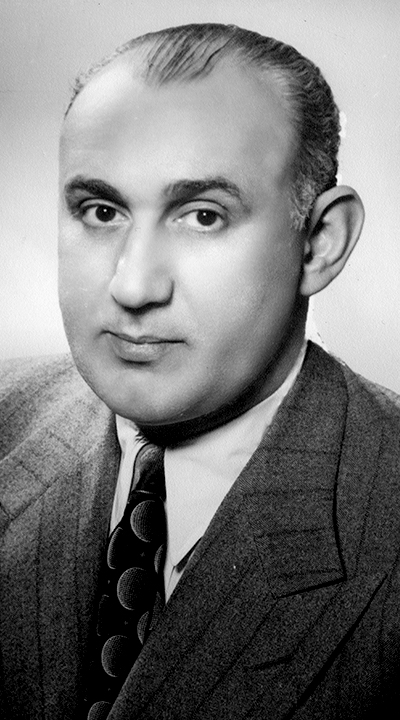 John P. Goulandris, patriarch of his family, was born on the island of Andros in 1840. He had five sons, Petros, Michael, Basil, Nicholas and Leonidas.  During the last three decades of the 19th century John was a Master Mariner and owner of sailing ships.
With the steady advent of steam power for oceangoing transport, sailing vessels progressively passed into their final days. Before the start of the 20th century, Greek owners had shifted their attention to the modernisation of their fleets.
With the benefit of adequate knowledge and on board experience in the newly steam-powered vessels and acting in partnership with one of his relatives and a wealthy merchant from the island of Syros, John acquired a steamship in 1901. This purchase constituted the foundation of his first significant earnings, his efforts being justly rewarded.
With the support of his sons, all mariners in their own right and with adequate experience in the operation of steam-powered vessels, John dared some years later to take a big step. Assisted by a loan from Epaminondas Embiricos, John managed in August 1910 to acquire a British steamship which he renamed Ioannis P. Goulandris and then began to trade. Three years later he acquired a second steamship, renamed Marionga Goulandris, and this small fleet started to yield good earnings for the family business.
Shortly before his passing, John lived to see his shipping company managing not only the family fleet but also several additional ships owned by other Andriot shipowners.
Passing away in 1927, at the age of 87, he had achieved both success and much much more.
His eldest son Petros was born in Andros in 1877. Working together with his brothers, a shipping company known as Goulandris Brothers was founded in the 1920s, with offices in Athens and London. Modifying their investment strategy, they acquired modern secondhand tonnage at favourable prices, continuously seeking new opportunities.  In 1928 the family acquired its first newly-built steamship.
After the sudden death of the firstborn Petros J. Goulandris, who passed away in 1931 at the age of 54, his brothers continued the company's activities.  During the interwar period, the fleet was managed from London.
The eldest son of Petros J. Goulandris and his wife Chryssi, John P. Goulandris, was born on the island of Andros in 1907. His family grew with the addition of four more brothers and one sister.
John P. Goulandris enjoyed early schooling in Andros before moving with his family to Athens where he completed his secondary education. After completing  his studies, he moved to London to work for Goulandris Brothers, which  by now had grown impressively, operating not only family-owned vessels but also vessels under other ownerships, primarily those of other Andriot owners.
In 1937, just before the outbreak of World War II, John P. Goulandris, still living in London, decided with his brothers to set out on their own, forming their own business group known as Petros J. Goulandris Sons.
The families, now separated into different business interests as cousins, always remained united in spirit and proud of each others' accomplishments.
After maintaining their offices in London for some years, John P. Goulandris and his brothers started to envision possible opportunities on the other side of the Atlantic.
John, who in the mid 1940s had married Maria Lemos, sister of his good friend Costas M. Lemos, set his sights on Montreal, a city with an active post-war Greek community which still exists to this day.
Guided by the characteristic entrepreneurial spirit of John P. Goulandris, the Goulandris interests founded Andros Shipping in Montreal, purchased and built ships in Canada, and even established a general cargo liner service from Canada to the Far East.
Despite his relative youth, John had by the middle of the 1940s established the structure for a newly developed maritime enterprise, acquired his first Liberties, and in doing so made it possible for his brothers to go on to realise his vision with their feet planted on solid ground.
Boosted by the demands of the Korean War, the early 1950s turned out to be profitable years for merchant shipping.  During these years, John's brothers, making productive use of the financing available at that time, rapidly expanded the number of vessels under management.  They were also amongst the first foreign owners to have their newbuilding units built by shipyards in Japan.
Loyally following the business philosophy that John had first adopted, the fleet was always balanced between large tankers and large, for that time, bulk carriers and there were always tankers held on long term time charter to the oil majors. This proved to be a wise approach because it insured a steady income stream during those all too frequent lean years.
His brothers contributed, each in his own way, to the development and success of the enterprise. It was John however, the founder, who with his hard work and vision created the conditions for achievements yet to come.
As was the case for several of his close relatives, John suffered from heart disease, in his case a failing aortic valve. He sought medical advice in Paris. Though his condition was correctly diagnosed, it was not treatable with the medical practices available at that time.
He tragically passed away in Paris in July, 1950, a victim of heart failure at the age of 43, leaving his widowed wife Maria and two young children.
It goes without saying that his sudden loss constituted a more than tragic event for all the rest of his family.  In spite of this, John's brothers, forever bonded together, found the strength to continue the family's business activity with impressive decisiveness and success.
John was much beloved by his friends and family. He was known for his expansive good humour, his kindness, his loyalty, his inclusiveness and his generosity. His nickname 'Megaleas' or 'The Great One' was both fitting and well-deserved in every sense of the word.
He loved his family. And he never lost his love for Greece and for his native Andros.
John possessed the qualities of a great entrepreneur. He was a leader; he was quick to seek out and recognise opportunity. He was a risk-taker, with an innate sense of the practical. He was blessed with boundless energy, up until his heart could no longer sustain him. And he was a man of decision; he acted rapidly and skilfully, without hesitation.
There are critical junctures in the long and storied history of Greek shipping. Such a time was during the rebirth of Greek shipping following the tragedies of World War II.
John P. Goulandris and his brothers, along with the great shipowning groups of their generation, were among the pioneers who played a significant role in setting the foundation for the dominant power that modern Greek shipping has become.