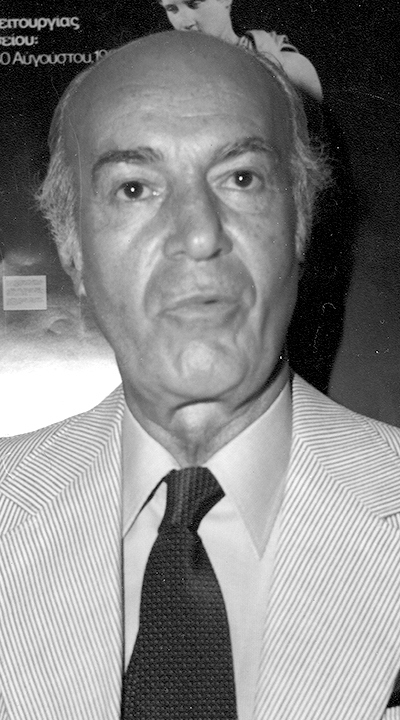 Basil Goulandris was born on the island of Andros in 1913. Andros, a place which opens the heart and inspires big dreams, can be traced a rich heritage in merchant shipping back for at least three centuries.
Goulandris was descended from a long line of individuals who for at least three prior generations, in varying capacities made their living from merchant shipping. Some were captains, others were chief engineers and eventually more than a few of them and their descendants became shipowners themselves. Basil was one of the most successful of this large and extended family group.
Basil had the benefit of early schooling in Andros before his family moved to Athens while of course returning to Andros every summer. Andros was quite advanced during the early years of the twentieth century. It had well lit streets, ample running water and beautiful summer homes both in the main town of Hora and in the surrounding residential areas at Lamyra and Manitari. Basil and his brothers and cousins enjoyed carefree summer vacations during their adolescent years while at the same time having access to the best schools of the day in Athens.
Basil Goulandris was scarred by tuberculosis during his later teenage years. It was felt at the time that his particular medical condition could best be addressed by seeking treatment abroad. He was successfully treated in Switzerland and went on there to study law during the 1930's. Subsequent to this Basil joined his older brother John who was already working at the Goulandris Brothers offices in London.
Following the untimely death of John in 1950, Basil went on to take over the management of his family's growing interests in shipping. Earlier the same year, he had also married Elise, who remained his beloved wife for the rest of his life.
Boosted by the demands of the Korean War, the early 1950s turned out to be profitable years for merchant shipping. During these years, Basil and his brothers found innovative ways to access financing. By making productive use of what today would be described as leverage, they rapidly expanded the number of vessels under management.
They were also amongst the first owners to have their newbuilding units built by shipyards in Japan. While Japanese shipyards have long since become synonymous with newbuildings for Greek owners, during the early 1950s committing to large projects in Japan was still an untested idea. Basil Goulandris was instrumental in making this major project a success. Over the next 40 years many more ships were built for his group by Ishikawajima-Harima Heavy Industries (IHI) and Mitsubishi.
The fleet was always balanced between large tankers and bulk carriers that were large for their time. Under Basil's leadership there were always a number of tankers held on long term time charter to the major oil companies. This proved to be a wise approach because it ensured steady income during the frequent lean years when funding was most needed.
There is no question that Basil Goulandris was an astute businessman and well versed in all the commercial intricacies of the shipping industry. He was also known within shipping circles to be a man of unquestioned personal integrity. This reputation followed him throughout his life and helped him to accomplish a large measure of what he set out to do.
Another, less widely known, aspect of his personality was his humility and sensitivity in all his personal relationships. He was always ready to recognize and compliment the many personal qualities of his associates and subordinates. He gave credit where credit was due and never took very much credit for himself. He viewed his many accomplishments to be the result of his good fortune in having good and loyal people working for him. His personal concerns and anxieties mostly had to do with the welfare of these people and of others.
Whenever he turned his mind to a subject, or expressed his opinion, it was obvious that he was speaking from the heart. His first thought was always his fellow man. He would speak first about who might be affected or disturbed by the undertaking under consideration. Only after these issues were satisfactorily addressed, would he go on to discuss the possible commercial or other merits of a project. This is not to suggest that Basil Goulandris was indecisive. On the contrary, he could be very decisive and act quickly but only after he was convinced that he was doing the right thing. And right to him meant not being selfish. He did not seek a bigger slice of the pie for himself. He rather wanted to make a bigger and better pie available to everyone around him.
In his later years Basil Goulandris spent several months every summer in his birthplace, the island of Andros. Basil wanted to work with the local authorities in Andros to do things to improve the island and particularly his home village of Hora.
In 1979, he and his wife together founded the Basil and Elise Goulandris Foundation, of which Basil served as President until 1992. During a period of 20 years, the Foundation built three modern museums in Andros, the Museum of Contemporary Art (1979) that houses part of the collection of the Foundation which consists of more than 300 works by Greek and foreign artists, the Archaeological Museum of Andros (1981) and the New Galleries of the Museum of Contemporary Art (1986) where international exhibitions of major artists are presented every summer.
In addition to these widely recognized undertakings in his birthplace, Basil Goulandris generously contributed support, in a less visible and often anonymous way, to retirement homes, schools, churches, municipalities, communities, and generally to local organizations occupied with the care of less fortunate individuals and families in need.
Significant donations were made by Basil and Elise Goulandris and their Foundation to the Benevolent Association of Athens to fund the construction and outfitting of the Athens Seniors Home which is an exemplary assisted living facility for elderly persons who would otherwise be alone. In 1989 the Foundation undertook the modernization of the Saint George residence for up to 45 indigent elderly men and in 1990 it similarly modernized the Cypriadeion residence for elderly women.
Basil was honored for his humanitarian and social contributions with the Grand Cross of the Order of George I and the distinction Archon of the Ecumenical Patriarchate. For his contributions to the enhancement of friendship and cooperation between France and Greece he was honored with high distinctions of the French Republic: Knight of the Legion of Honor (1981) and Officer of the Legion of Honor (1986), and for his cultural contributions with the title of Commander of the Order of Arts and Letters. He was honored in 1991 with the Silver Medal of the Academy of Athens for his donation of the Archaeological Museum of Andros to the Greek State and for his initiative in the establishment of the Andros Museum of Contemporary Art.
Basil Goulandris passed away peacefully in Athens on 27 April, 1994.