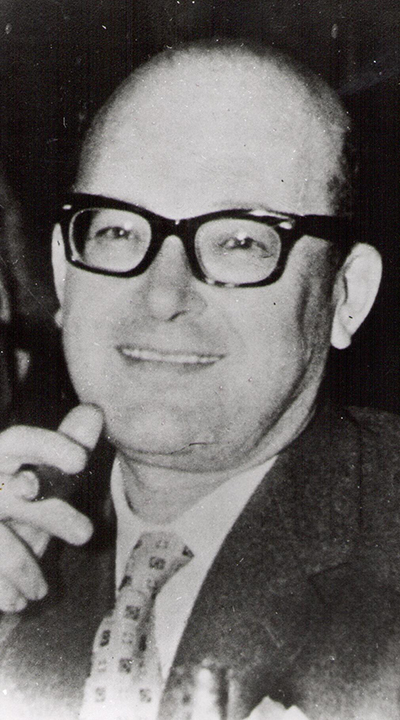 Today's Tsavliris Salvage Group can trace its origins to the early 1920s when founder Alexander Tsavliris first arrived in Piraeus from Asia Minor as a refugee.
Among the first shipowners who supported the development of Piraeus as a maritime centre, he became a leading owner of dry cargo ships and is remembered for putting Greece on the international map for salvage operations.
Tsavliris was born in 1914 into a small Greek community located in the Black Sea coal port of Zonguldak, northern Turkey. His family originated from Erymanthos mountain area of the Peloponnese and ancestor Theodore Tsavliris (1884-1921) is commemorated as a benefactor by a bust in the town square of Livarzi.
One of five children, Alexander Tsavliris moved at the age of eight together with his family to the Therapeia area of Constantinople. The following year, 1922, the family was caught up in the Asia Minor catastrophe and was forced to flee to Greece.
His industriousness was already evident as a young teenager when he was working aboard a small family coal-burning tug in the mornings before his afternoon job as an office clerk and attending night school in the evenings.
During his early years he benefited greatly from the support of his uncle, Nicolas Papadatos.
In 1931, he followed a path trodden by numerous ambitious Greeks with aspirations in the maritime sphere by emigrating to the UK. In London he worked in several Greek shipping offices, including those of Goulandris and Vergottis. In 1940, shortly after the beginning of the Second World War, he established his first firm, A G Tsavliris Ltd. However, his main wartime role was working at the UK Ministry of Transport, helping to operate Greek ships in the Atlantic convoys.
Smart, determined and tireless, he founded Tsavliris (Shipping) Ltd in London just after the war to operate a fleet of coasters around UK and northern European waters. German war reparations included consignments of timber and, in one notable success, Tsavliris obtained a contract of affreightment from the UK government to transport cargoes from West Germany. He was also involved in operating his uncle's motor tanker Grammos in Greek waters on charter to Shell.
From 1950 onwards Tsavliris began building up a fleet of larger, oceangoing cargo vessels. In the middle of that decade, while maintaining an office in London, he relocated to Greece. It was considered a daring and patriotic decision at the time. The new company, Tsavliris (Hellas) Maritime Co. was just the third shipping company registered under a new fiscal regime introduced by the government to foster the country's shipping sector. The main hubs for Greek shipowners were still London and New York.
During the following years, Tsavliris purchased a number of war surplus Liberty ships and other secondhand freighters.
He was among the most commercially-minded of Greek shipowners, attaching a good deal of importance to securing forward employment for at least part of the fleet. In the late 1950s, for example, he agreed a contract of affreightment with Italy's Donati to ship large quantities of West African hard wood to Italy. In the 1960s, under another contract of affreightment with Cuban government charter agency Cuflet, Tsavliris transported hundreds of thousands of tons of refined sugar to European and Mediterranean destinations.
The scale of the operation is indicated by the reputed existence of a photograph taken on one particular day when there were close to a dozen Tsavliris vessels in the port of Havana simultaneously, all loading or discharging agricultural machinery and fertilisers.
Tsavliris' contracts of affreightment were considered among the first such contracts ever performed by a Greek shipping company.
By the mid-1960s, Tsavliris had created a substantial dry cargo fleet, which peaked at about 17 vessels.
In 1964, in parallel to his cargo-shipping operation, he decided to launch a port and salvage tug business. Always willing to innovate and take calculated risks, Tsavliris saw that Greek shipping relied on foreign salvage and towage companies. Despite adversity and strong competition from international tug companies, he resolved to fill the gap for a Greek company and founded Tsavliris (Salvage & Towage) Ltd.
His experience working aboard a family-owned tug in Piraeus harbour when he was a youngster kindled his interest in tugs. In addition, Tsavliris had long been an admirer of international salvage exploits. Within about five years, he had acquired a fleet of about 30 units, becoming in a short space of time one of the largest registered tug owners in the world.
Besides providing tug services at all the main Greek ports, Tsavliris put a Greek company onto the world map as a salvage enterprise – not an easy task in a highly specialised business that was dominated by traditional Dutch, German, Danish and British salvors. But the move succeeded thanks to the conviction, professionalism and ingenuity of the company's founder. Before long, his company operated a large fleet internationally and was widely appreciated for its expertise and service.
Tsavliris' entrepreneurial appetite for risk was reflected in many of his business dealings, including becoming a leading purchaser of shipwrecks and shipwrecked cargoes during this period. Nor did he shrink from attending casualties himself whenever feasible – a personal touch that frequently exposed him to dangerous casualty situations. Close associates and family remember him as being an original thinker and decisive by temperament, whether giving instructions to a master on a voyage towing multiple tug acquisitions, or blazing his own trail As well as being a significant employer, with over 1,000 mostly Greek seamen, Tsavliris had long contributed to supporting the Greek economy through importing significant amounts of foreign currency, and had patronised the development of the country's shiprepair sector by repairing and maintaining his fleet locally. At the start of the 1970s he went further by ordering two SD 14-type dry cargo ships from Hellenic Shipyards at Skaramanga. In May and September of 1971, the 15,327 dwt vessels were delivered as, respectively, Toxotis and Neotis, and they would remain in the group's fleet for more than a decade and a half.
Having created a major international shipping enterprise, Tsavliris sadly passed away at the height of his career, at the relatively young age of 59.
He never forgot his own humble origins and, during his lifetime, hundreds of people – ranging from the poor or sick to hardworking employees – benefited from his quiet generosity. Even significant donations to institutions were made anonymously, a rare exception being his support of The Piraeus Society in the 1960s, made jointly with fellow tug companies Vernicos and Matsas. Tsavliris is also remembered warmly in today's Greek shipping circles for the helping hand he provided in advancing the careers of a number of successful contemporary shipowners. His legacy provided a platform for sons Nicolas, George and Andreas to grow the salvage business into the most frequent user of Lloyd's Open Form in salvage history. The company has already performed more than 2,000 LOF cases and in total more than 3,000 significant marine salvage and towage operations. In the year 2000 alone it was awarded 51 LOF contracts, an all-time annual record for one salvor. It seems fitting that Alexander G. Tsavliris is inducted into the Greek Shipping Hall of Fame in the year marking the centenary of his birth. It also marks a half-century since his launch of the salvage and towage business