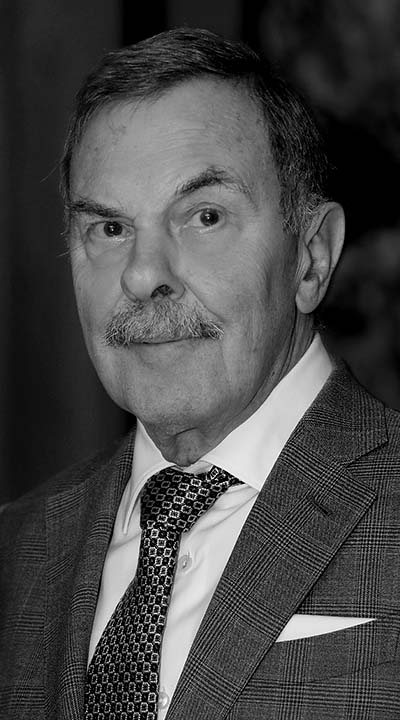 John Angelicoussis was born in Piraeus in 1948. He attended the Ionidios public school in Piraeus, graduated from Athens University of Economics and Business and then completed the MBA programme at MIT in the United States.
His mother Maria Papalios and father Anthony Angelicoussis, who served as a radio officer at sea, both came from the village of Kardamyla in Chios. However, the Angelicoussis family originated in Kardamyli in Mani and relocated in the middle of the 18th century to northern Chios, as it offered a better vantage point for piratical activities against ships sailing from the Black Sea to the Mediterranean.
In the second half of the 19th century the Angelicoussis family began focusing on legitimate maritime business, first with fishing boats and then in 1891 with a first 292 dwt cargo vessel, Taxiarchis, built in Syros Island.
When John Angelicoussis' father, Anthony, finished high school he became a radio operator. After the Second World War, Maria persuaded Anthony to start his own shipping business. Together with two close friends in 1950 he acquired a first cargo vessel Astypalea, of 500 dwt, setting him on the road to becoming one of the most forward-thinking of Greek owners during the decades that followed.
Anthony continued to expand the business during the 1950s and in 1960 a first Liberty-type vessel was acquired. The company started to order newbuildings from IHI Shipyard in Japan. By 1985 a total of 42 dry cargo ships had been delivered and all vessels placed under Greek flag.
John Angelicoussis began his shipping career in 1973 when he joined the family shipping company. "Every year was better than the previous one," he later said of working with his father.
Having inherited a strong brand name in dry bulk shipping, he became President and CEO of the Angelicoussis Shipping Group in 1989, after the demise of his father.
Despite travelling abroad for a large part of his life, Greece was always in his heart. He believed in its people, their work ethic, their loyalty and the Greek spirit.
Highly intelligent, with spectacular business acumen, in 1992 he founded Kristen Navigation to establish the group's presence in tankers.
The following year he proceeded with the first order of capesize bulk carriers. The five vessels from Hyundai Heavy Industries were at that time the largest ships of the kind ever ordered by a Greek shipowner.
In 2000 he decided to expand the tankers sector, with new orders of aframaxes, suezmaxes and very large crude carriers (VLCCs).
In September 2003 he ordered his first liquefied natural gas carrier, the Maran Gas Asclepius, becoming one of the first Greek shipowners to enter this sector. He established Maran Gas Maritime and today it is one of the largest LNG players in the market. In 2004 he proceeded with the creation of an LNG joint venture with Qatar Gas Transportation Company, under the name of Maran Nakilat Co. Ltd. In 2019 a second LNG Joint Venture was created with QGTC.
Maran, an amalgam of the names Maria and Anthony, was named for his parents. Later, the brand was also adopted for the tanker and dry bulk fleets, now managed by Maran Tankers Management and Maran Dry Management, respectively.
True to his strategy, Angelicoussis became the leading Greek owner in each of his chosen market segments – capesize bulk carriers, large tankers, particularly VLCCs, and large LNG carriers.
When he died in 2021, the Angelicoussis Group owned 151 ships across its three sectors of operation and was considered the largest purely private shipping empire worldwide.
Extremely perceptive, Angelicoussis read people well and genuinely liked engaging with them, particularly the younger generation. "What makes this company is its people" was his mantra. He kept his door always open, to be of guidance, support and assistance when needed.
Business apart, he was deeply patriotic and concerned for the country and its people. In 2010 he decided to establish the Charitable Foundation Antonios and Ioannis Angelicoussis, aiming to help those in need in Greek society.
Since its establishment, the Foundation has provided substantial support to children, hospitals and schools in Greece.
His contribution to the latter-day strength of Greek shipping is widely recognised, not least through his group's technical excellence and high standard of service to charterers, its longstanding loyalty to the Greek flag and its strong support for maritime education in Greece.